The photographs in this collection were originally made as part of The Arc Williamson County's 2017 Service Dogs of Middle Tennessee calendar; a project that raised funds for people with disabilities in our community.  Each service dog has a moving and unique story about how they provide individualized tasks to assist their owners with varying disabilities.  The calendar and the exhibits that emerged from this project showcased the personal account of each service dog team as well as educated the public on etiquette, the law, and often-misunderstood aspects of service dogs.  As a disability advocate and photographer, my goal with each photograph was to capture the dedication, loyalty, and spirit of each dog in a way that reflects their unique personality. Sets of photo greeting cards are available in the
AbleVoices Store
. A portion of the proceeds go to The Arc Williamson County to provide support and resources for people with disabilities. All text accompanying the photos was written in 2017 for the exhibits.
Photographs © Jen Vogus | AbleVoices
This collection of photographs were on first exhibit at the Williamson County Public Library in Franklin, TN.  Our goal by continuing to exhibit these photos is to help promote a culture of acceptance and inclusion for people with disabilities.  
The exhibit traveled for the following year at these venues; Fire Hall Gallery at Franklin City Hall, The John P. Holt Brentwood Public Library, Williamson County Community Service Gallery, the 
Vanderbilt Kennedy Center
, the Polk Lobby Gallery at Tennessee Performing Arts Center (TPAC), the Laskey Gallery at Scarritt Bennett Center, and the Green Hills Branch of Nashville Public Library. 
To learn more, follow these links from local media sources: Brentwood Homepage, Williamson Herald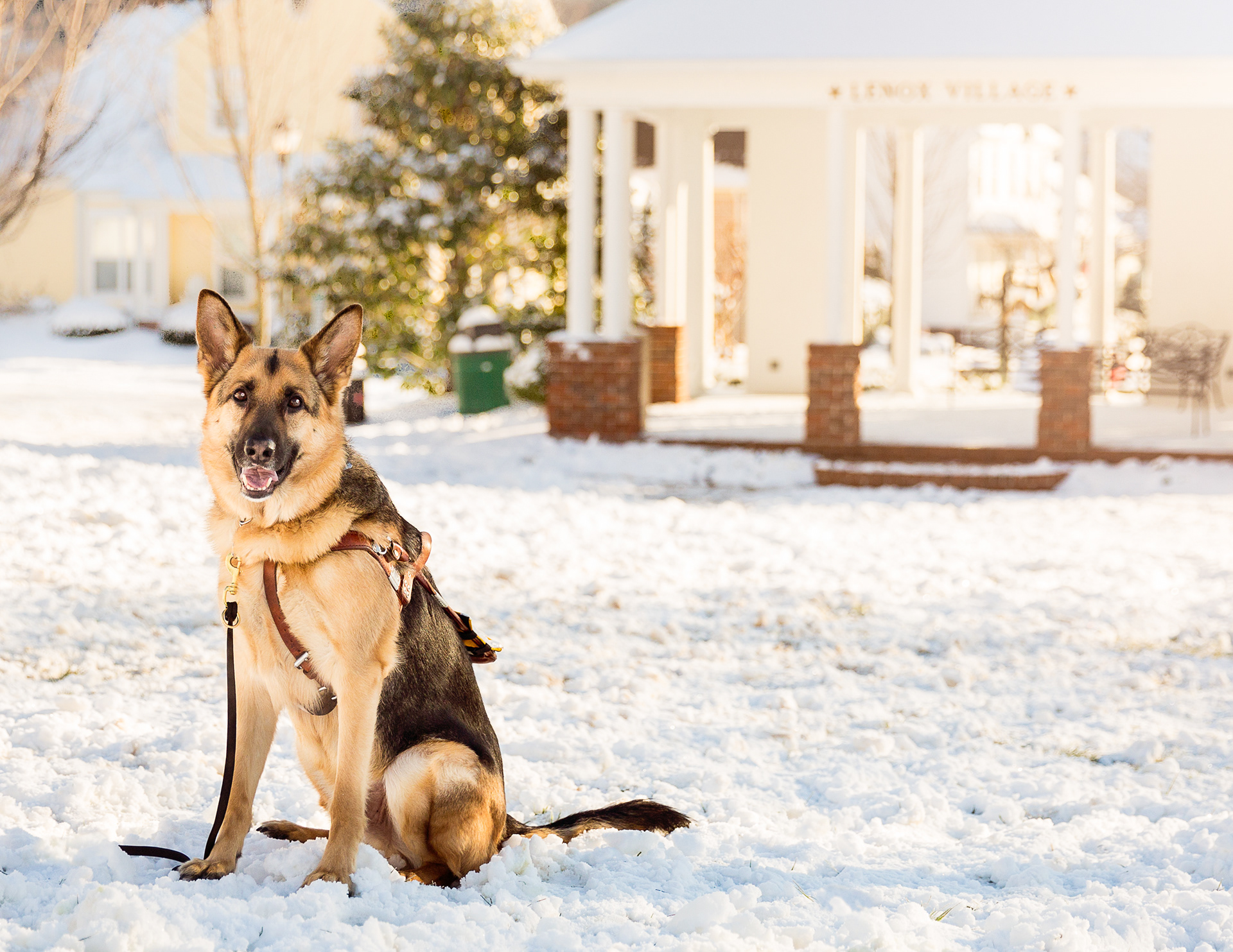 Shep was a six-year-old guide dog from Nashville. This loyal German Shepherd had been with his handler, Jimmy, since 2013 until he passed away in July 2017 after undergoing the removal of an aggressive cancerous tumor. Shep has assisted Jimmy through his degree at MTSU in psychology and as he pursues a Master's in Professional Counseling at Vanderbilt. When Jimmy married, Shep served as his "Best Dog" in a ceremony at the gazebo pictured above. Jimmy is the founder and President of the Tennessee Association of Guide Dog Users (TAGDU). This state chapter of the National Association of Guide Dog Users began in 2014 and works to educate businesses, law enforcement, and the general public on guide dog access laws and rights.  Shep enjoyed his final summer of retirement, especially a day at a camp for children who are blind and visually impaired. The children loved him, as all people did, and several said they wanted to have guide dogs when they grew older, because they met Shep. Jimmy and his wife miss him so much. Jimmy's new guide dog has "big paws to fill!" 
     Bear is a four-year-old Labrador mix from Franklin.  He is a psychiatric and mobility support dog that performs deep pressure therapy and retrieves on command.  His handler, Lauren, also depends on Bear for counterbalance and bracing when walking or standing.   Lauren describes Bear as an extension of herself who is always there for her and is both very independent and has the heart of a guardian.  Bear is owner-trained through the Access Canine Solutions program in Pennsylvania.  This organization offers education and support for owner-trained teams through all phases of training a service dog- from selection to matching, obedience,
teaching tasks, and public access training.

     Billie is a nine-year-old black Labrador from Nashville that has assisted her handler, Sheri, for the past 5 years.  Billie was trained at Pilot Dogs in Ohio as a guide dog for the blind.  During training, she learned commands such as forward, left, and right as well as to stop at curbs, stairs, and other obstacles.  She was also trained to wait patiently and quietly while her companion worked, talked to friends, or sat on a bus.  Once Billie was three she was paired with Sheri, who is an Independent Living Specialist for Empower Tennessee.  Billie is pictured lying beneath Sheri's desk where she spends much of her day when Sheri is in the office.  Billie is ready to go, however, once Sheri is in need of her assistance!

     Boo is a three and a half-year-old Labrador from Franklin.  He and his handler, Josh, enjoy going shopping together, whether it is the grocery store or the mall.   Boo performs tasks to assist Josh, such as retrieving items. Josh and his family obtained Boo from Good Dog! Autism Companions in California a year ago. This organization's training philosophy and methods are based on those taught at the Bergin University of Canine Studies and focus on bonding family, child, and dog. Their mission is to support families learning about service dogs, training the dog and the family, and throughout the life of their service dog.  Boo is a very calm, loyal, and intelligent dog who is a perfect match for Josh!

     Davy is a nine-year-old black Labrador from Franklin that has assisted his handler, Leslie, since she was two.  He was trained through the Canine Companions program in Orlando, Florida.  This is a non-profit organization that enhances the lives of people with disabilities by providing highly trained dogs and ongoing support to ensure quality partnerships.  They have successfully trained and paired over 5,000 service dog teams since their creation in 1975.  Davy can do 78 tasks for Leslie including open doors, turn on lights, push elevator buttons, open cabinets, retrieve items, put clothes in the hamper, and throw away trash to name a few!  Davy is big, lovable, loyal, kind of shy, but an oh, so helpful guy!

     Kiwi is a nine-year-old Labra-doodle that assists her handler, Sydney, in Nashville.  Kiwi helps Sydney with her progressive form of arthritis in her legs and feet by carrying and retrieving items as well as providing support and counterbalance when moving or standing.  Kiwi wears a backpack each day while Sydney goes to work and when they travel.  Even though Kiwi does not usually need to carry too much, the relief of any extra weight on Sydney's joints is of great assistance.  Sydney works in a lab at the Vanderbilt Kennedy Center doing autism intervention research.  She describes Kiwi as the Human Relations Specialist of the 4th floor because co-workers often stop by to say "hello" to Kiwi!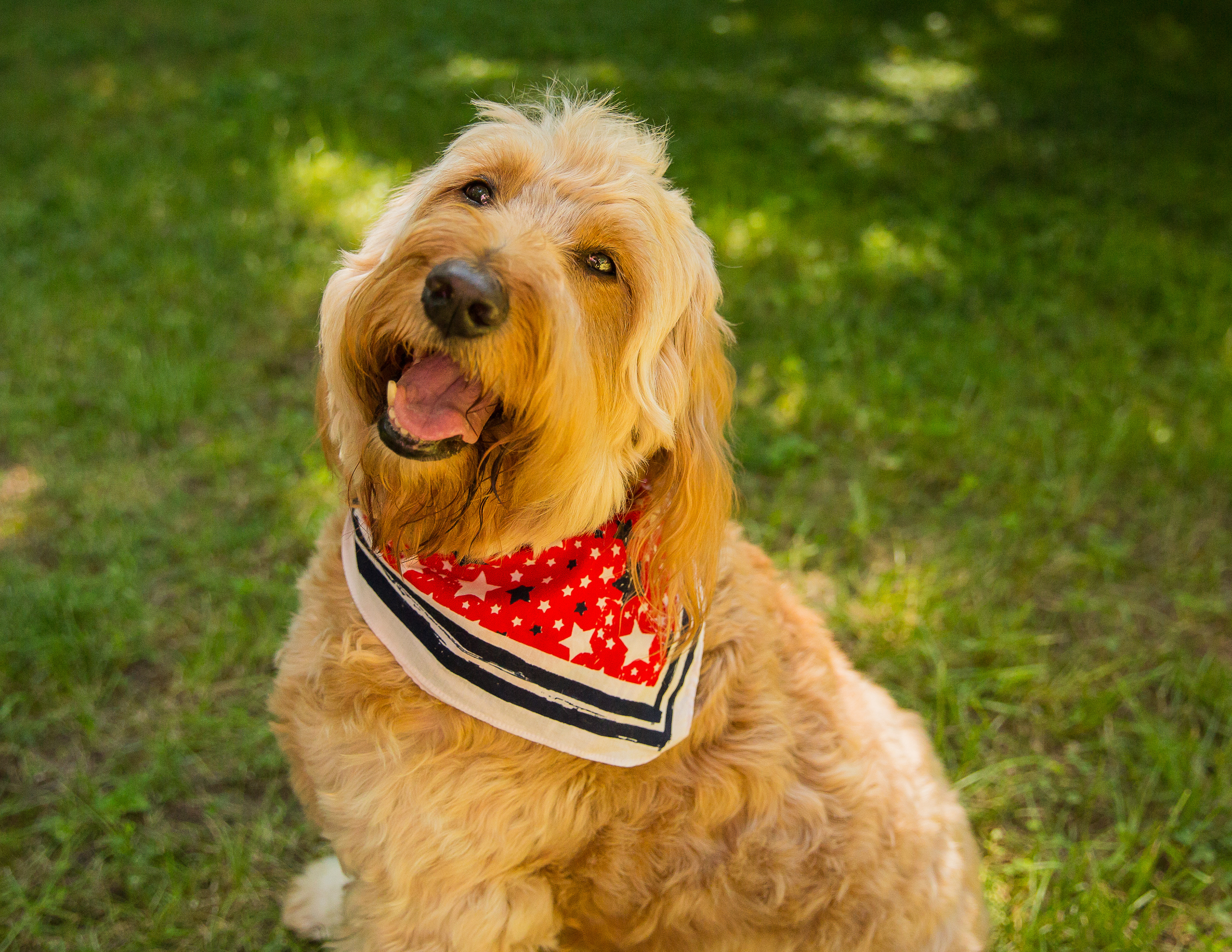 Sunshine is a twelve-year-old service dog that was adopted by handler, Lorre, at six weeks old.  This Golden Doodle is a psychiatric service dog that performs response tasks associated with symptoms of PTSD.  Lorre is involved with local disability organizations to help educate individuals about their rights to have a service dog, the law, and how to resolve conflicts.  Lorre describes Sunshine as a dedicated dog that is focused on her needs 100% of the time when they are out and about in public.  When Sunshine is off-duty she enjoys playing ball, running through puddles, and receiving lots of belly scratches.  Although Sunshine is almost 12 years old, she is full of joy and energy.  People often say she looks and behaves like a puppy!

     Sunny is a five-year-old miniature Australian Shepherd service dog that assists her handler Morgan, who has Type 1 Diabetes.  Morgan trained Sunny through the Diabetic Alert Dog: The Borderland Way program.  This program begins with a six-week introductory course and its effectiveness depends on both the personality and temperament of the dog, as well as the commitment and dedication of the owner.  Through consistency and positive reinforcement, this program teaches people with diabetes to train their dogs to detect abnormal glucose levels before they reach dangerous levels.   Morgan is a sophomore at East Hickman High School and takes Sunny to school each day.  They are an inseparable team!

     Dreyfus is an eleven-year-old yellow Labrador and has served as Paula's guide dog for the past eight years.  He was trained by Guide Dogs for the Blind (GDB) before Paula was paired with him.  GDB is the largest guide dog school in the country and provides partnerships between people, dogs, and communities.  Their programs are made possible through the teamwork of staff, volunteers, and generous donors.  Services are provided to students at no cost to them.  Dreyfus and Paula spend much of their time at All Saints Southern Episcopal Church in Nashville where her husband is a pastor.  Paula describes Dreyfus as getting older but still a puppy at heart.  He sometimes just wants his belly rubbed and to spring across the yard!

     Phoenix is a seven-year-old Collie that lives with his handler, Crystal, in Brentwood.  Crystal began training Phoenix at the age of thirteen weeks using a balanced training approach after completing the Instructor Training Program through Access Canine Solutions in Pennsylvania.  During this training, Phoenix learned how to do guide work, counterbalance, bracing, item retrieval, medical alert and response, deep pressure therapy, and behavioral interruption.  Phoenix loves puzzles, so Crystal is always searching for new ways to keep him amused.  Crystal and Phoenix especially enjoy spending time outdoors and taking walks in the local parks. Phoenix is happy when there are new things to sniff!

     Yeager is a four-year-old Doberman and has assisted his handler Steve for a year in Murfreesboro. Yeager was trained as a guide dog at Pilot Dogs in Ohio. Puppies are placed in a foster home to be raised for one year and afterward begin formal training that lasts for about five months. When the blind student arrives to start their training program, they begin to take care of and learn to walk with their dogs. The dog and handler build up to finding their way about large department stores, on and off buses, and across the busiest thoroughfares by themselves! Steve serves as the Board Secretary for the Tennessee Association of Guide Dog Users and describes Yeager as protective, friendly, and playful, but serious about his work. 


Jackson
     Jackson was a five-year-old Golden Retriever who lived with his handler, Leslie, in Franklin. Sadly, Jackson lost his life to an aggressive form of canine cancer a year after this photograph was made.  Leslie adopted Jackson as a puppy and trained him for two years through Diabetic Alert Dogs: The Borderland Way, where he learned scent detection for Type 1 Diabetes. Jackson alerted Leslie by pawing and barking in response to extreme glucose levels. He recognized changes before Leslie did, allowing her to make corrections to her insulin pump before harm results. Leslie is the ADA Service Dog Access Educator for Diabetic Alert Dogs. She and Jackson trained police departments, businesses, and hospitals on ADA public access laws for service dogs and their handlers. Leslie described Jackson as her best friend, her lifeline, and her guardian angel!  He will forever live in the hearts of those who loved him! To continue and honor Jackson's legacy, Leslie has started training a new Diabetic Alert Service Dog. He is a Golden Retriever puppy named Bentley. At only 4 months old, Bentley has impressed his trainers with his wonderful temperament and exceptional scent detection abilities. He has a long road of training ahead of him, but he's well on his way.